How Can Pilates Help You?
"Contrology (Pilates) develops the body uniformly, corrects wrong postures, restores physical vitality, invigorates the mind, and elevates the spirit."
By the end of a class, my goal is that you can breathe a little deeper, stand a little taller, and move a little better.
Breathe Deeper
I love to talk breathing mechanics!  The primary breathing muscle, the diaphragm, and the low abs/pelvic floor work together.  If you can breathe properly, you can use your abs! The push and pull of this system allows you to move fluidly and strengthen your muscles with "uniform development," one of my favorite Joe Pilates expressions.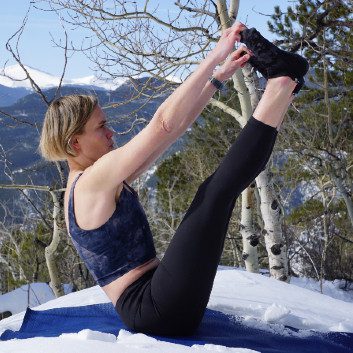 Stand Taller
Once we have our breathing system, we can strengthen everything else to help stand us up taller.   Computers, smart phones, driving: they all bring us forward and down.  Pilates will open up your front and strengthen the muscles you need to be just a little bit taller.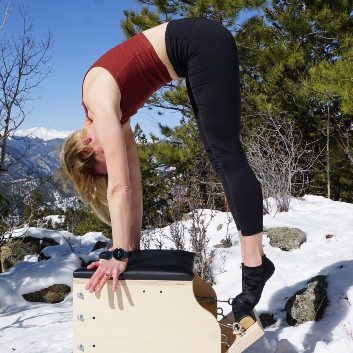 Move Better
When we can breathe and stand taller with proper alignment, we can MOVE!  Isn't that the goal? Our joints work best in good alignment, with proper muscular control surrounding them. Are you a regular hiker or cyclist? Great!  Pilates will allow you to hop into that pick up basketball game or climb at the playground with your grandkids. What could be better?
Stream Pilates on Demand

Do my workouts any time, from anywhere.  Full length classes available as well as shorter more focused workouts. 
New workouts uploaded each week!
Erin Brooks, PT, DPT, NCPT
Physical Therapist/Pilates Instructor
Hi!  I'm Erin.  I am a board-certified physical therapist and Pilates instructor.  I earned my B.A. at Luther College in Decorah, IA with coursework in biology and mathematics.  During my undergraduate career, I fell in love with geometry, physics, anatomy and biomechanics: the foundation of movement.  I also competed in varsity cross country and track and field; my specialty being the 3000m steeplechase.  The steeplechase is an incredibly athletic event and I only wish I had known about Pilates back then!
After college graduation, I bummed around Boulder, CO for a few years.  I worked in a bike shop and a bakery; I ran many miles and cycled even more.  I dabbled in triathlon.  Eventually, I figured out how to use all those math and physics and anatomy classes and started my physical therapy degree.  I earned my clinical doctorate in physical therapy at the University of Colorado Denver in 2010.  A year into my practice, a major injury to my spine and pelvis led me to the magic of Pilates.  I knew little about the work, but intuitively believed it could help to heal me and support my injuries.  I was right.  Soon after, I earned my Pilates teacher certification at The Pilates Center in Boulder. I have since logged thousands of hours of class and individual instruction, as well as thousands of hours of personal practice.  It just might be an obsession. 
I truly believe that physical fitness and happiness go hand in hand.  Muscular strength is just as important, maybe even more than, cardiovascular fitness.  Ideally, they grow and develop together.  Strength work should be fun, rewarding, and empowering.  It should help us age gracefully and healthfully.  It should help prevent falls and injury whether you are 20 or 50 or 80 years old.  "Thin" does not mean healthy, and "overweight" does not mean unhealthy.  Strength transcends size and Pilates builds uniform strength.  Try it.
Outside of Pilates, I love early morning runs where I solve all the problems.  Then coffee.  Mountain biking with my squad of strong lady friends is about as good as it gets. My pillow fort building game is strong, I was taught by the best engineers: my daughters.  And I can hold my own on skate skis with my husband.  Someday, someday, I'll perfect that loaf of sourdough bread.  To go with my coffee.
Find Out More About Physical Therapy and How It Can Help You.
Working With Injuries
I have a clinical doctorate in physical therapy and have maintained an orthopedic practice for over 12 years.  I treat all body parts, but specialize in operative and non-operative hip rehabilitation, pelvic floor and core integration, low back pain and dysfunction of the foot and ankle.  Call or email me to set up an appointment.
Worried you can't do Pilates because of pain or injury?  I might enjoy teaching people with injuries and medical issues even more than I enjoy teaching those without.  I love to problem solve, and many injuries arise from patterns and postures that most all of us could stand to correct.  Shoulder problem or hip pain?  Happy to help!  Scoliosis?  You bet! Osteoporosis?  For sure, and maybe let's chat ahead of time.  My classes help to unwind and unpattern movements that have caused or could cause pain.
Virtual Pilates Mat Class Schedule
Sunday 11am

Level 2 (Basic/intermediate):

Work during the week?  This class will give you the strength and mobility to play on the weekends! Level 2 is a great place for generally healthy, active people.

Tuesday 11am

Level 2 (Basic/intermediate):

One of my most popular classes.  Can you take a quick work break around lunch?  Get some morning exercise and jump into class?  Or hop on after a slow morning of coffee-drinking?  This class is perfect for you!

Thursday 8am

Level 3 (Intermediate): 

This class is a great challenge!  Moves fast, quite athletic.

Thursday 10:30am

Level 1.5:

This class is a mixture of Pilates mat work and standing Pilates exercises.  The best of both worlds!  Deep core and hip work on the mat, balance challenges to improve stability when upright and active.

**All classes are taught using the Zoom platform
Pricing
Single class:

$25   || 

5 classes:

$110  || 

10 classes:

$200
Private Pilates or physical therapy:
$100/45 min session
$125/1 hour session
**The Pilates PT, LLC, has a no refund policy for virtual class purchases.
Register for a Virtual Mat Class
Your first class is free, so go ahead and join us. Pick the class that works best for you and your level.
Join a Class Request Form